Hi all, I have decided to join in with more "blog hopping" challenges this year. Those challenges where you post your creations on your own blog and link back to the blog with the challenge.
So here is my "entry" for want of a better word for this week's challenge on the
ArtyGirlzChallenge blog
which is to include buttons on creation. I say "creation" because the challenge doesn't refer to only scrapbooking layouts.

Anyway, these are the last two pages in my "In the Mirror" album which is a 5x7 album. It has been half finished for ages and I will be finishing it this week! I am determined to finish my scrapbooking projects that have been "kicking about" for months. Apologies for the "pinkness", but that's the theme of the Album, mostly.

This is the left hand page (below)...
And this is the right hand page (below)...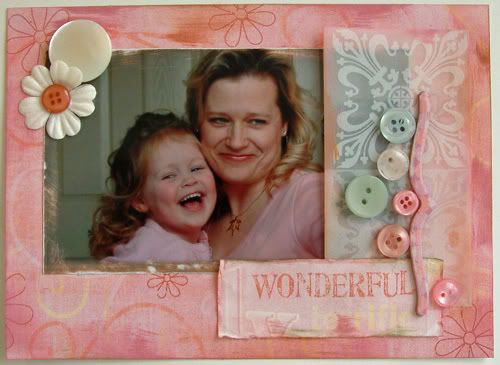 And a couple of close-ups below. I have to say that I made myself do these quickly. I already had some of the stash together as it was an ongoing project... But not for long... lol... I will post the other pictures when the whole albums is finished. That will be a long post !