Well here is the finished page... if you can call it that! I specifically made it as the first of a number of "Artwork Layouts" I plan to make. This one is hanging on the pinboard I have in front of me in my office/craft room.



It's made using the Two Scoops collection from Basic Grey. I deliberately made the words fro a similar colour as the background and just darkened the edges for a bit of extra definition because I wanted it to be subtle... almost mixed up with the background.

Why?... because for a better life I am supposed to be thankful for everything around me. Gratitude attracts more thing to be grateful for and therefore a better life. But although I am much better than I have ever been at saying and thinking "Thank You", old habits die hard as they say and I feel it's mixed up with all the "old baggage" I am carrying (soon to be discarded I hope!) But I wanted to keep this uplifting, with an achievable feel, hence the colour scheme.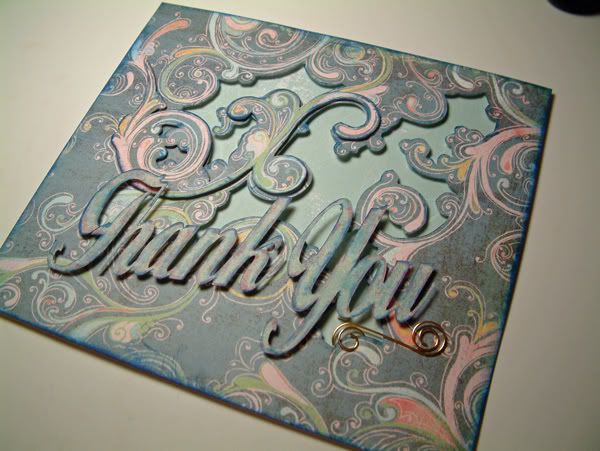 The words are cut using my Craft Robo, but the "decoupage" swirls I hand cut and coloured.
I realised initially that the words were lost when directly on the background, so I decided to lift them... bit of a bind that was! cutting up tiny bits of pad off a roll, only to find that the roll is thinner than my usual pads and so I had to double up on every tiny bit... hey ho we live and learn! lol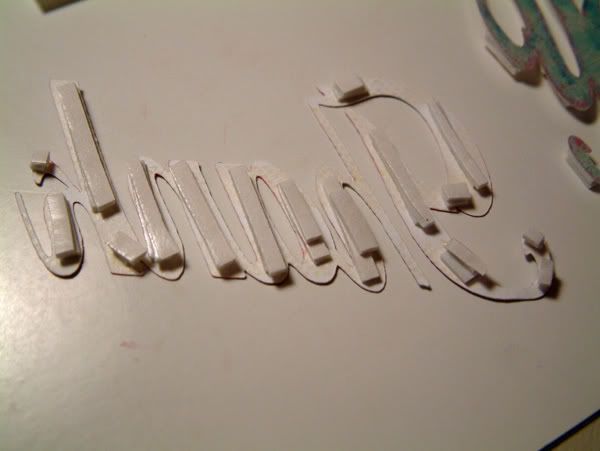 This is the background before the words were added.
My plan is to make many more (sying Thank You and other words such as Love, Believe, Inspire, etc) and hang them all over the house. I also plan to make some with journaling, ie, an affirmation, so that the words are aesthetically pleasing too!
Wed 14th January 09 - Update
I stumbled over this blog this evening and they happen to have had a similar idea!