Here is my entry/example for this weeks challenge on UK Scrappers!
This is the challenge...
Our team name is done in purple and ribbon is in our name so if you use purple and ribbon 10 points (5 points for only using 1)
February is pisces which is water so the theme has to be water 5 pointsthere are 29 days this feb so you have to use 29 of something OR 2 & 9 of something 10 points
and finally something metal or sparkly 5 points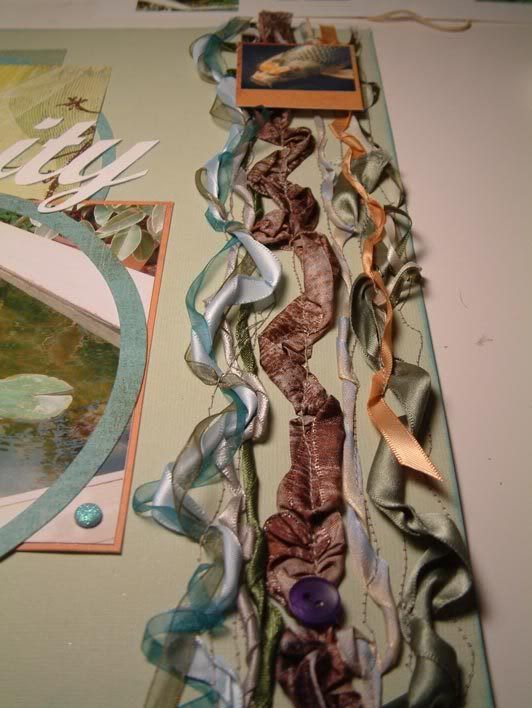 And this is my entry editorial:
This is my entry for the Rockin Ribbon Raiders Team Challenge.
Water ThemeUse Ribbon - loads (I lurve ribbon)
Use 29 of something... buttons
Something sparkly... Sparkly brad bottom right of main photo (see closeups!)
Something purple... 29th Button is purple - can you spot it? (answers on a postcard please to... only joking) You'll have to check out the close ups!
Papers - Basic Grey from the Two Scoops, Blush and Urban Couture collections
Bazzill Green cardstock background and white title
Ribbons and buttons from various (non-scrapbooking) sources.
Sparkly brad from Team member 'Pink Lady'.
The title was cut using Craft Robo - Font: Script MT Bold.
As the white card of the title stand out as much as I had hoped it would I "added" a shadow to one side of each letter using a green/blue pencil. This help define the edges. (see last picture)